Flashing Traffic Control Signs

Advantec Development offers Traffic Control Signs featuring state of the art flashing LED lights. Our Flashing Stop Slow Paddles for Construction Workers in work zones and Flashing Stop Stop Signs for School Crossing Guards provide an extra margin of safety by getting the attention of drivers sooner and more effectively than standard signs.
---
Advantec Development Traffic Control Signs are MUTCD approved.
Our signs are sold under the VISUAL-Alert trade name.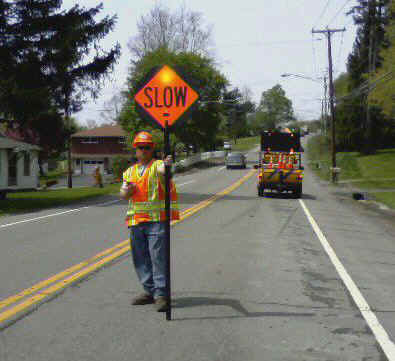 18 inch and 24 inch flashing traffic control signs are available in a variety of 3M reflective materials to meet local and State requirements. Support staffs of 72 inches and 84 inches are available.
VISUAL-Alert traffic control signs operate in all weather conditions, -40F to +130F
and are extremely effective in poor visibility conditions. Battery life is greater than 60 hours running continuously.
Extensive DOT testing has proven these signs to be vastly superior to conventional signs. The VISUAL-Alert signs provide a much needed extra margin of safety.
Advantec Development is committed to offering the highest quality traffic safety products at exceptionable value to the customer.

VISUAL-Alert Flashing Traffic Control Paddles are ideal for:
Construction and Work Zone sites
School Crossing Guards
Fire Police
Police
Military Bases
DWI Check Points